MMR v DRR
Season Opener set to be a big hit Local Roller Derby team, Middlesbrough Milk Rollers (MMR) are hosting their first home game this season on Saturday 11th May at Eston Sports Academy. The 15th Ranked team in Europe have managed to storm up 5 places by dominating their 2 previous games and can promise an exciting, fast paced unique sporting experience against Leicester's Dolly Rockit...
8 tags
MMR Bring you FREE Roller Derby & Merby!
The Middlesbrough Milk Rollers invite YOU to come and watch us play an Expo Bout on 9th March 2012. We're trying out our brand new bouting venue at Eston Sports Centre in Middlesbrough and in preperation of our season opener this event is absolutely free! We're giving you TWO Live Roller Derby Bouts on the day! Watch as MMR intraleague teams, The Smog City Rollers take on Acklam Asylum, and be...
Newbie Goes Zebra
When, as a newbie, I was asked to attend a Wednesday practice on skates, I was surprised to say the least. Usually, Wednesdays aren't attended on skates until minimum skills is passed, and I'd only ever NSO'd on a Wednesday night. My eyebrows raised higher and higher into my helmet as NERD Flanders informed me that he wanted me to strap my skates on for an extra night and try my hand at being a...
"SO WHERE IS THE BALL?"
rollerderp: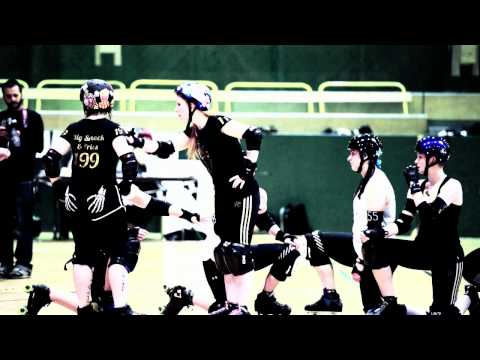 When we do tractor drills:
derbygirlproblems:
4 tags
North V South
After being crowned 'Queens of the North' at the Great Yorkshire Showdown our next venture is down South, where we will be defending our title in a 1950's themed bout. On 25th August we'll be making the Journey to Sussex, to take on Croydon Roller Derby, in their 'I Shove Lucy' event. The bout is taking place at the Dolphin Leisure Centre in Haywards Heath. Doors are at 3.15, with the...
: Queens of the North →
shecamefromsheepland: "Queens of the North", hey not my expression - it's just what it says on my certificate for WINNING THE GREAT YORKSHIRE SHOWDOWN!!! Okay I may still be a tad excited despite my immune system crashing on Sunday and being ill off work from the whole weekend. Let me start from the beginning…
9 tags
Women Try Sport Day
  As part of the National Women TRY Sport Day campaign, Teesside Roller Derby League, Middlesbrough Milk Rollers are hosting a free try-out session. On Saturday 23 June we invite women to come along to the Rainbow Centre from 1-2 and learn the basics of skating, as well as… find out about the exciting world of roller derby. There will be an hour session on-skates with some of our...
Nine Leagues Become Full WFTDA Members - Latest... →
Congratulations to all of those Leagues who made it to Full Member status!
Yay Roller Derby!: Dear Kami, re: ''The C Word''... →
kittydecapitate: This is the first in a series of "Letters to Kami/Kitty", where we play pen-friends about eachother's blogs. I miss our runs together —-our real runs, not just our pretend runs ;) Dear Kami, I am responding to your blog entry on Confidence (…
7 tags
Men's Roller Derby in Teesside
The Skate Invaders have landed………in Teesside? Skate Invaders are a brand spanking new Men's Roller Derby Team in the North East. Founded on May 3rd 2012.   It seems The Middlesbrough Milk Roller's Milkshake has brought all the boys to the yard! We are now the proud sisters of the 'Teesside Skate Invaders' League who have now had two successful practices....
8 tags
It's a great time to be MMR
We can now roster an A team, B Team a good solid herd of zebras & still have skaters coming through just completing their min skills probation period.   So how happy was I to see twelve smiling enthusiastic faces getting kitted up for our May fresh meat tryouts? After a talk from our ref & coach Hombre Lobo and lovely captain Gunpowder Dot it was great to see them throw themselves into the...
6 tags
MMR V TBB 07.05.12
7am on a Sunday morning and I'm up and doing a last minute kit check- a necessity for me- I never want to forget a knee pad again! It's time for a road trip to Cardiff, and what's 5 hours when there's a bout guaranteed at the other end. So off we headed, Milk Rollers on tour to face off against the Tiger Bay Brawlers. We knew it would be out toughest bout to date, and the...
New Skater Intake - May 13th 2012
When and Where? Sunday 13th May 1430 - 1800 The Rainbow Centre, Coulby Newham What? Whether you've seen MMR about town, saw Whip It and thought 'I want to do that!', or are looking for a new sport to try out that is fast, fun and with noticeable results in next to no time, then MMR's newbie tryouts are for you! It's over 18s only but all abilities are welcome, and even if you haven't put a...
Confessions of a first time Derby Photographer
      Hot girls, speed, skill, bravery, action and violence. I could easily get some good photos of that, right?    This is what I thought when I first saw my team the Middlesbrough Milk Rollers training at the local sports centre. I had a camera and had been taking what I thought of as proper photos for 7 or 8 years. I roughly knew what Roller Derby was as I had seen an article about them in the...
MMR's first home bout victory
After 1 lap on a space hopper and our off skates warmup, MMR were ready for their first home bout against The Imposter Roller Girls    The first whistle blew, our blockers swarmed and Rocky Ell Boa broke through for lead jammer and scored our first 4 points. As we skated back to our benches I look over at Rocky and mutter "this is going to be good." It was time to put our months of GETTING LOW...
6 tags
My First Bout
As I was getting ready to walk to the coach which was taking us down to Liverpool to bout against Liverpool Roller Birds, I felt very nervous and a bit panic-struck – thoughts like 'have I got everything?', 'check your kit', 'remember your food and drinks', 'oh shit I need sunglasses, run back and get them' spun around in my head. It was a sunny...
Central City Rollergirls: They came from the... →
centralcityrollergirls: Playing on home turf makes for a secure and special event, and after making the squad for the Centrinnians, this could be, roster permitting, my first ever home game playing for CCR. I joined CCR in September 2011 after moving away from my old league Middlesbrough Milk Rollers (whose…
5 tags
The "Zen Bench"
  I've spent a fair amount of my short derby time playing on any Mixed, Home or Travel team that will have me. Each one having the same re-occurring bench strategy; The Zen Bench.  This seems to transpire in many different ways.  The most important one; keep a calm bench. The advantage of this is to keep the players focused and the Bench management heard.  Chaos on th bench brings confusion,...
8 tags
Scrum Starts in Roller Derby
There seems to be some debate on whether or not these are good for the future of derby. With adoring fans & skaters alike complaining that it takes away from what roller derby used to be all about: SPEED!  In general, teams want the jam to start, they want to start hitting the opposing jammer, and your jammer wants to start scoring points ASAP. If you don't want the other team to delay, you...
6 tags
Season 1, Bout 1: Middlesbrough Milk Rollers vs....
Prepare for fast and furious action as Middlesbrough Milk Rollers take on Lincolnshire's, The Imposter Rollergirls, for the first time.  This marks the start of their first open bout season. The bout will be a double header as cherry poppers from around the country face off against each other. Including players from Sheffield Steel Roller Girls, Wakey Wheeled Cats, Hotwheels Roller Derby,...
2012 Roller Derby
Let me start by saying how lucky I am to be a part of UK derby right now, our amazing Team England has just been placed 3rd in the first ever Roller Derby World Cup (http://derbynewsnetwork.com/ )2011/12/world_cup_3rd_place_3_england_stops_4_australia_203_85  We were also represented by Team Scotland and Team Ireland who displayed brilliant teamwork and skill on an International level.  The UK now...
2 tags
1 tag
: On the M1 again... →
shecamefromsheepland: Sometimes there's just nothing better than going to train with another league; you get to see what off skates training they do to keep fit, you get taught skills you might not cover in your own training sessions and you usually get to scrimmage with them at the end. That's what I love about…
4 tags
MMR Events: Planet Dare @ Sumo
rubella27: The Middlesbrough Milk Rollers hosted Planet Dare at Sumo in Middlesbrough Empire on 10/02/12 to raise money for the team. There was a stall near the main entrance of the club were you could win prizes if you dared! We had girls recruiting on the floor in roller skates (Rocky Ell Boa, Moose, Kim Cognito, Gunpowder Dot, Lethal Whippin', Sophs and Katie.) and 5 girls on the dare stall...
8 tags
SPORTS TEAM IS ON A ROLL AFTER CASH BOOST
MMR RECIEVE CASH INJECTION LOCAL roller derby team, Middlesbrough Milk Rollers, has become the first league in the country to secure a Sport England grant. The skate league has been awarded over £4000 to boost numbers, buy equipment and bring specialised training to the team. The grant comes just a year after the sport became a recognised roller discipline. MMR will be hosting their first...
4 tags
Be My Guest- Little Grr-Maid
Guess what. The world of roller derby is an expanding and exciting place. Leagues are popping up all over the country, the sport is getting recognition, and our grass roots are finally sprouting up some little flowers. However, many of us know the frustration of being on a team who are nearly there, but haven't got the numbers to bout. As fresh meat floods in, the divide between skills and...
12 tags
New Skater Intake - February 12th 2012
When and Where? Sunday 12th February 2012 1430 - 1800 The Rainbow Centre, Coulby Newham What? Whether you've seen MMR about town, saw Whip It and thought 'I want to do that!', or are looking for a new sport to try out that is fast, fun and with noticeable results in next to no time, then MMR's newbie tryouts are for you! It's over 18s only but all abilities are welcome, and even if you...
6 tags
Beats International, 5th November 2011
Grandmaster Bash v Public Frenemies by Frodo Bashins The day had finally arrived, I would be heading out with MMR's newest post mins, my sister, Lolly Go-Sprightly, Titch, and Georgey to face my first bout fears!! After receiving the team rota and finding out our alliances were split, we had been playing against each other for the past few practices, and thrown into teams against our toughest...
2 tags
7 tags
WWC vs MMR - Gunpowder Dot
Sunday the 27th November saw MMR's 2nd bout of the year with an almost entirely different line up of skaters and two awesome MMR alumni guesting; Chu Chu Rocket (DRG) and Germaine Leer (CCR). In the trusty hands of our bench and line up managers Lexi Lightspeed (LRD) and Darcey Hustle (MMR) we brought home our first win 253 -37. The Wakey Wheeled Cats (WWC) were lovely, and our closed bout was...
5 tags
MMR Player Awards 2011
And the winners of the 2011 MMR awards are…. Most Improved Skater Lolly Go-Sprightly Most Improved Referee Hombre Lobo Most Inspirational CC Boom! Best Jammer Rocky Ell Boa Best Blocker Moose MVP, Most Tactical & Best Attendance Terri Sudron Penalty Queen The Little Grr-Maid Member of the Year Noise Pollution Miss Congeniality Kitty Ka-Boom Best NSO ...
6 tags
Tips for playing your first Bout:
1.   Enjoy the fact that it's your first bout. If, like me, you were worried about doing something totally noob and stupid in the heat of the game (falling over for no reason/ all the time, going to the penalty box the wrong way, tripping your teammates into a pile…) then don't be. For starters, it probably won't happen. Your team wouldn't field you at all if you weren't ready. Secondly, if it...
2 tags
Living the dream?
  I have just arrived at my one year anniversary of both Roller Derby and being a Milk Roller.  During my time I have learnt so much not only about Roller Derby, but about myself.  One of the things I have realised during my time as a Milk Roller is I become frustrated at my own development when I have nothing to work towards.  My first few months of Roller Derby were probably the most fun I have...
5 tags
So you saw Whip It and now you want to be your own...
Advice for newbies Okay so I haven't been skating for very long, 8 1/2 months to be exact, but I feel like I have acquired some valuable information during my short time of being part of a(n amazing) roller derby team. So I thought it might be nice to pass on some imformation and words of wisdom for any newbies or potential recruits to this wonderful sport. … and from that...
Wheel Review - Atom Jukes
Product options Widths: 44mm & 38mm Heights: 59mm only Hardness: 95a, 93a, 88a Colour: Red/Orange tyre with white/aqua hub and hardness specific décor: 95 Green 93 Yellow 88 purple Pricing and Distributors billys.co.uk are only stockists of Atom wheels currently known in the UK.  Roller Derby teams unfortunately do not get a discount (though it might be worth asking if you are ordering a...
5 tags
Derby, a sport for people that don't like sport?...
  It always baffles me when people describe roller derby as a sport for people who don't like sport. Apart from the fact it's an oxymoron! What is meant by it?  You mean….. the lazy, non-teamy, give up too easily sorts, who you used to roll your eyes at, at school?! I am not sympathetic to bone-idleness!   I know there's the social side of it, & the whole we need all shapes & sizes on...
7 tags
Team Scotland Vs. Northern Allstars - 16/10/11
It all started with a very exciting e-mail sent to the majority of the Northern Roller Derby Leagues inviting them to nominate players to be involved in a Mixed Team to play the mighty Team Scotland. Obviously MMR jumped at the chance to put some players forward for this amazing opportunity. The lucky MMR Rollers were; Dynamite Stix Who also was Vice Captain for the Bout. Rocky Ell Boa ...
6 tags
Middlesbrough Milk Rollers in the Evening Gazette... →
3 tags
Write up of SSRG's second ever bout →
hellyeahssrg: Going back to November 2009, here's a write-up of the closed bout between Sheffield Steel Roller Girls and Middlesbrough Milk Rollers